Introducing the MonaLisa Touch™ Laser
MonaLisa Touch™ restores vaginal health quickly and painlessly with a minimally invasive laser treatment. It is recommended that the patient receive three sessions spaced at six week intervals, with treatment taking less than 30 minutes. Some women even report noticeable changes after just one session with the MonaLisa Touch. There is no anesthesia required and no documented side effects, so consult your doctor today to reverse the symptoms commonly related to vaginal atrophy.
According to the North American Menopause Society, as many as 45 percent of post-menopausal women suffer from vaginal atrophy, which causes symptoms that severely detract from their quality of life and intimate relationships. The revolutionary MonaLisa Touch laser helps women relieve the effects of hormonal changes without undergoing surgery or risky hormone replacement therapy.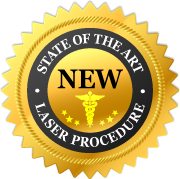 Comfortable, Safe, Convenient.
We offer the latest in minimally invasive in-office procedures.
Contact Us